A very rare dharma assembly was held in Pasadena, California on September 19, 2018. It is believed that this dharma has not been performed anywhere in the world for over 80 years. Pabongkapa Dechen Nyingpo Rinpoche (1878-1941), a Gelug lama in Tibet, was one of the last known masters who could perform this dharma. Common fire offerings are frequently performed in Tibet, India, and elsewhere to halt disasters, remove hardships and difficulties, eliminate hindrances, and increase good fortune. However, in terms of the empowerment generated, they bear little resemblance to the Holy Fire Mandala Homa Dharma that was practiced here.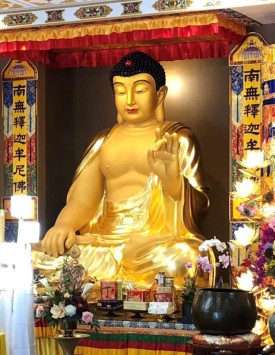 Those who had the good fortune to attend not only received the initiation to be able to practice this dharma, which is considered the "king" or greatest of all dharmas to eliminate living beings' sins, hindrances, and dark karmas, but also were able to witness the subduing of evil, malicious demons and the successful subtle presentation of "Secretly Sending a Petition to a Bodhisattva." This was to enable the souls of the demons to be taken to the Buddha-land to be taught and reformed.
Zhaxi Zhuoma had such good fortune and personally saw the events described in the September 14th announcement from the World Buddhism Association Headquarters concerning this ceremony including the spontaneous burst of flames that cremated the demons. Another attendee wrote an excellent account of what happened in more detail in the Taiwan Times.
Washington Chinese Daily News (Chinese)
CLICK for background provided by the World Buddhism Association Headquarters on the difference between the "Holy Fire Offering of Buddha-Dharma" discussed in this article and the "Common Fire Offering" that many know about and have practiced and why it is important in subduing the various demons of the Five Turbitities of this Dharma-Ending Age.
Rare Holy Fire Offering Dharma Assembly Held at Holy Miracles Temple
Link:https://dharmafromhhdorjechangbuddhaiii.org/2022/01/12/rare-holy-fire-offering-dharma-assembly-held-at-holy-miracles-temple/
#HHDorjeChangBuddhaIII #DorjeChangBuddhaIII #DorjeChangBuddha